Self-Hypnosis for Stress Relief and Positive Changes
Introduction to Self Hypnosis (1 minute)
What to Expect in these audio recordings.
Ok, Let's Review the Mental Self-Rehearsal
Self-Hypnosis Technique
Ready to take Your Self Hypnosis Practice to the Next Level? Ready for even more dramatic results?
Step 1:  Write Down a hypnotic suggestion you would like to give to yourself.*  It must be positive in nature, in the present tense and have an embedded reward or benefit.  Example: Every day in every way, I am better and better.
Step 2: Read the suggestion to yourself 5 times slowly.  On the 5th time, begin to lift your right index finger and as you finish reading your suggestion, slowly lower the index finger and ……
Step 3: Transition into hypnosis, using the 30-second process (as recorded above) and allow the mind to open wide, absorbing the energy of that suggestion.  As you explore your full potential, just relax and enjoy.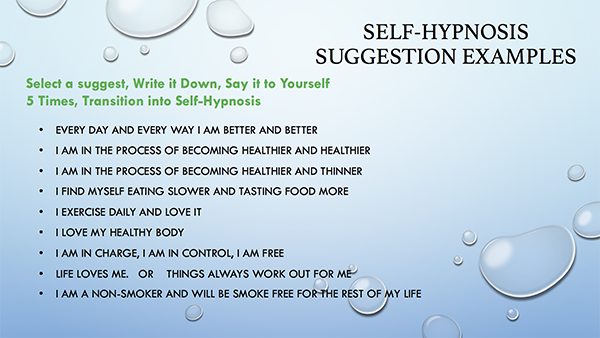 *There is research stating successful people have written goals. Maybe it's a law of attraction idea if you write it out, it sends it out into the universe to bring it back to you. Actually, there is a rather simple physiological explanation. As you write down your goals, you can feel the energy of the suggestion and it starts to become real. It's the action of writing it down.  And even as you read it to yourself in the privacy of your own mind, you are tapping the energy of limitless potential within your unconscious.
Self Hypnosis 2-Step Process (3 minutes)
Step 1: Flip that light switch off, and transition comfortable into hypnosis. And while in that hypnotic state, step into your desired outcome. Be there having already achieved the things you want to create, reaching your goal. Try it on and notice how well it fits. Be there in your own desired outcome.
Step 2: When you get to a suitable place where it feels as if time to emerge, you may simply open your eyes and/or raise the right index finger, and step into it as a reality.