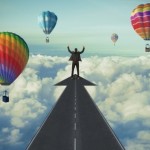 CAL's Story of Healing and Self-Discovery
I'm a 69-year-old male.  I have been clean and sober in AA for the last 28 years. In October 2017 my 30-year-old nephew committed suicide. At first, I was OK with the situation until the first night of the wake. He was a great young man and no one had any idea that this person could do something so tragic. Well, that night I was extremely sad but mentally fine and rational.  At about 2 a.m., I woke up with a HORRIBLE thought, could I do something like that, not that I would, but could I?  Well, that sent me off into an uncontrollable anxiety attack. I was shaking, very uncomfortable and very frightened. I've had some anxiety since my first major anxiety attack at age 23. I could understand that attack, I was very active, very guilty and full of shame for a variety of reasons.   
It was troubling to understand after 28 years of sobriety, living a good clean life I could not understand what was happening to me to the point I had to commit myself to a hospital psych ward for a couple of days. Although at the evaluation the doctors said I did not have to be there, I decided to stay as I was so uncomfortable in my own skin.  They informed me it was simply an anxiety attack.  At the hospital, they put me on some meds and sent me home after 3 days.  I was advised to get a therapist and a psychiatrist to help me through my troubled times. I went to a doctor and he put me on medication which I didn't like and did nothing to help.  The medication made me even more anxious.  I went to my therapist whom I know for 30 years, I also put a Catholic Priest in my recovery.
I kept telling them something was blocking me and couldn't understand why I was having such a difficult time accepting my nephew's death. So at some point, my therapist suggested I see a hypnotist. I looked up hypnotist in Farmingdale area and found a MIRACLE named Donna Bloom at Wise Mind Hypnosis. I called and was blessed that she was available at the moment. She had a cancellation and I came right away. My wife and I jumped in the car went right over and sat with Donna for over an hour and she described what the process of hypnosis and how she works with clients. It's not hocus-pocus she described it as a focused state of consciousness. Donna was very articulate, intelligent and very spiritually connected which I really wanted. So I made my first appointment.
I've been seeing Donna for the last 2 1/2 months and I tell you she has made such GREAT difference in my life. Unless you experience it for yourself you couldn't possibly understand how GREAT she is and how she gets you to a state of mind that is not only BEAUTIFUL but also VERY HEALING. I've made a turn in my recovery.  I believe that if I didn't put Donna in my life, I couldn't have found what was blocking me. I had many unresolved issues, she was able to help me find and resolve them. Now my anxiety is so much less, I'm much happier than I was 2 1/2 months ago. I'm so much more comfortable with who I am and what my life is all about. I truly believe that God intervened and put Donna in my life. I truly believe in Donna and her approach to hypnosis. I've recommended several people to Wise Mind Hypnosis and they all have the same opinion of Donna. I know I said a lot, I could say much more about my experience with Donna, I will say this, I could only hope if you are having a problem with anxiety, you give Donna chance to help you to get better. I'm so glad I did.  ~CAL*
*Please Note: Results May Vary. Hypnosis results will vary from person to person. No individual result should be seen as typical.